Tom A. Wright is an author who writes science fiction. This web page is dedicated to exploring Tom's books, writings, projects and ideas. Below is a list of what you will find here at Tom A Wright.com. Enjoy exploring.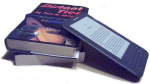 Tom's Books
On this page you will find information on all of Tom's books. You will find what books are currently published, and books in the works. Links to available published books are also provided.

Tom's Thoughts
On Tom's Thoughts page, Tom A. Wright blogs on assorted topics. You will find reviews on books, movies, TV shows and games, as well as writings on assorted related issues. Tom will also talk about writing in general.

PC Games Created by Tom
On the Game page, Tom A. Wright offers some games such as Wordsearchs, Cross Words Puzzles and downloadable Pinball, which he as created himself. There are also links to downloadable programs and/or files so you can utilize the tools for creating your own games.

About Tom A. Wright
Find out about Tom A. Wright. This page will give a brief biography, and provide information on Tom's likes and dislikes.
Copyright © 2012 Tom A. Wright